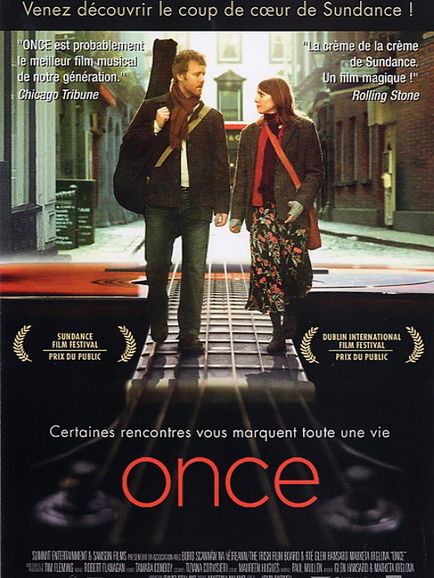 Budget? 180,000 €. Director? Never heard of him. Actors? Not even. Country? Ireland. Now why the hell would I waste my time watching this movie?
You can't imagine how glad I am that I did.
How often do you find the right person? Once. The tagline for this independent European production beautifully describes its essence. Some would say it's a modern-day musical owing to the Oscar-winning soundtrack filled with memorable, heart-warming melodies. If we judge Once from this point of view, it would be the most unconventional musical I have ever seen.
A love story? Some would say it is. The affection and strong sense of care are so deeply imbedded and so sincerely acted out that you sometimes believe it's an actual story playing out before your eyes on the streets of Dublin. Sometimes you even feel as if you were spying on the intimate conversation and furtive glances dashing between Guy and Girl. That's right; the protagonists in our story are unnamed. They could be anyone. Maybe even you. Or maybe even me.
Once isn't your typical Hollywood romance, where luxury and cheesy pick-up lines are omnipresent. No, Once presents difficult aspects of life such as poverty, the struggle to make a living and the even greater struggle of trying to make your dreams come true.
Sincerity, music and love are spectacularly intertwined in what I consider to be the most touching. independent production of the decade.
Genre:

Drama/Music/Romance
IMDb rating:
8.0/10
G rating:
9/10